International Waffle Day celebrated the right way!
It's another national holiday centered around food, who makes these days? It's actually a bit of a long story, here's the skinny.
It all started in Sweden, interestingly not where waffles were founded. Waffles were founded in, you guessed it, Belgium! (Sweden and Belgium are about a 4 hour plane flight from each other.) Anyway, back to the delicious food… So waffles came to Sweden in the early 1600's and spread to other areas. They didn't smother them in syrup though, they ate them with jams and fruits. They ate them at all times of the day too! We can get behind that, right?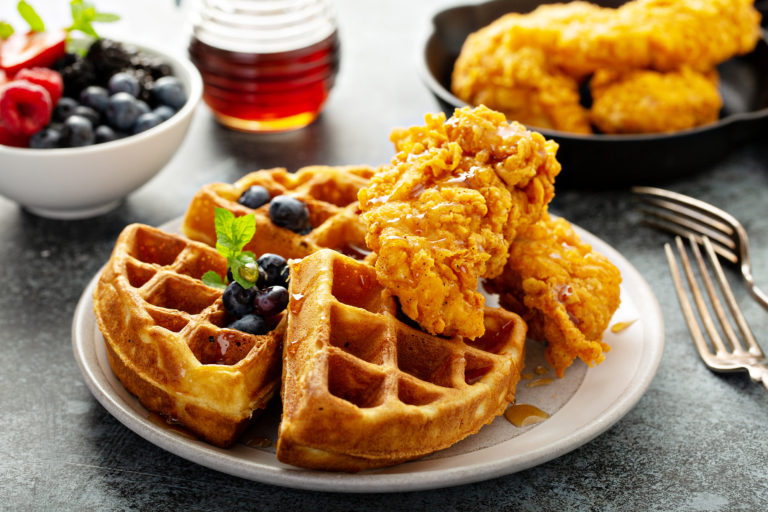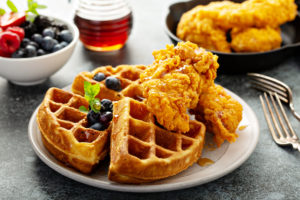 Well to celebrate them they created an event called "Våffeldagen" which sounded close to another word we can't pronounce, "Vårfrudagen" which is a religious celebration. The two traditions ended up merged.
Of course, as time passed a wider variety of waffles were created, getting sweeter in the 1700's. That's when the butter and sugar was added which is close to the waffle we know and love.
So where did International Waffle Day come from? Because those two words sounded so similar, some mispronunciation merged the two holidays together. In fact, to celebrate the religious holiday, they eat waffles!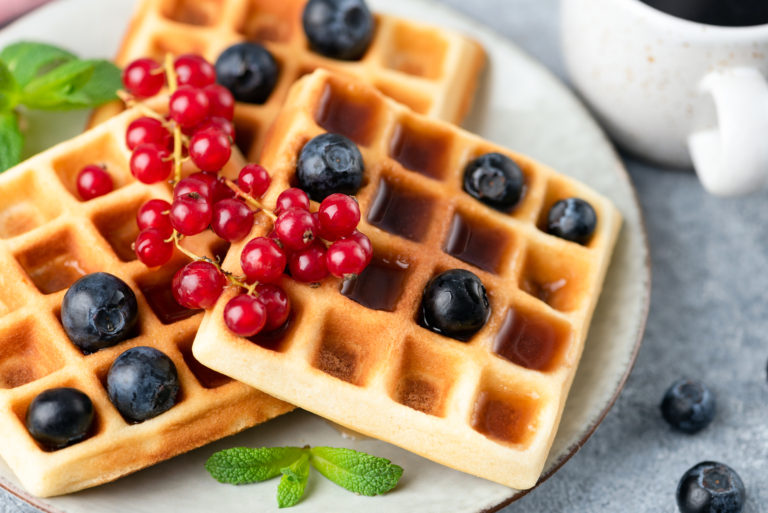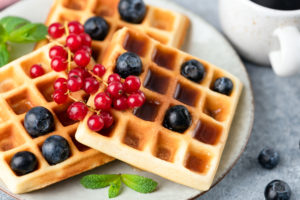 So as a clinic we obviously can't recommend indulging in a food comprised of mainly sugar and carbs. So here's a healthier option that tastes just as good! Another key point in not shooting your blood sugar through the roof…don't DROWN your waffles in syrup. We know it'll be tough, just try and measure it out to that serving size you ignore on the back of the syrup bottle.
International Waffle Day recipe (healthy version)
We got this recipe from "My Weekly Meal Plans." 
2

 

eggs

 

large

1 1/2

 

cups

 

any milk

 

I used unsweetened almond milk

3

 

tbsp

 

maple syrup or honey

3

 

tbsp

 

any mild oil or melted butter

1

 

tsp

 

pure vanilla extract

1/2

 

tsp

 

baking powder

1/2

 

tsp

 

salt

2

 

cups

 

whole wheat flour
Instructions
In a large mixing bowl, lightly beat eggs. Add milk, maple syrup, olive oil, vanilla, baking powder and salt; whisk until well combined. Add whole wheat flour, mix well.
Preheat waffle maker. If your waffle maker is cast iron you might have to spray it with cooking spray to prevent waffles from sticking but maybe not since batter has enough oil. Try one and see how it comes out.

Make waffles according to your waffle maker's instructions. Amount of batter depends on the size of your waffle maker. I used about 1/3 cup batter per waffle. For crispier waffles, I also cook a bit past the green Ready indicator.
Store: Refrigerate in air circulating container for up to a week.
Freeze: Fully cook, cool completely, and freeze in an airtight container for up to 6 months.
Reheat: Pop them in the toaster straight out of the freezer to heat up. You can also use the microwave if you're wanting to get them a bit softer.
Notes
Whole wheat flour: You'll notice that these waffles aren't as fluffy as your average waffle. This is due to the whole wheat flour containing bran and germ. For a lighter version try my almond flour waffles or super fluffy almond flour pancakes.
Tricks for fluffy waffles: Because this recipe uses whole wheat flour, you won't have the fluffiest waffles. There are, however, some things you can do to try and maximize the potential. Separate the yolk from the egg whites. Beat whites until soft peaks have formed and fold them back into the batter. You can also allow the batter to rest while the waffle iron heats up. This way you give extra time for the baking powder to do its thing.
Cinnamon: For added warmth and a delicious hint of cinnamon, add a dash.
Waffle mix: Mix the dry ingredients together and keep in a mason jar. You'll have a homemade waffle mix at the ready!
Nutrition
Serving: 

1

waffle

 | 

Calories: 

131

kcal

 | 

Carbohydrates: 

19

g

 | 

Protein: 

4

g

 | 

Fat: 

5

g

 | 

Saturated Fat: 

1

g

 | 

Cholesterol: 

27

mg

 | 

Sodium: 

169

mg

 | 

Potassium: 

83

mg

 | 

Fiber: 

2

g

 | 

Sugar: 

4

g

 | 

Vitamin A: 

40

IU

 | 

Calcium: 

60

mg

 | 

Iron: 

1

mg