Why Choose Us?
We're not affiliated with any other medical organizations in the area. That gives you a unique opportunity to get advanced care on a personal level. We want  to get to know you first so we can give you a health plan that's easy to follow so you achieve overall happiness. At Advanced Family Medicine you are more than your symptoms, you're family. We are a local independent osteopathic practice.
Our passion is getting to know each and every one of our patients beyond their symptoms. That means we'll not only help treat the symptoms that you're currently dealing with but also to get to know you. We'll take a look at anything else that could be contributing to your symptoms like diet, daily activity, or medical interactions.
The Blog
IV hydration isn't a new fad or a new health craze, providers have been giving fluids for decades to treat...
Read More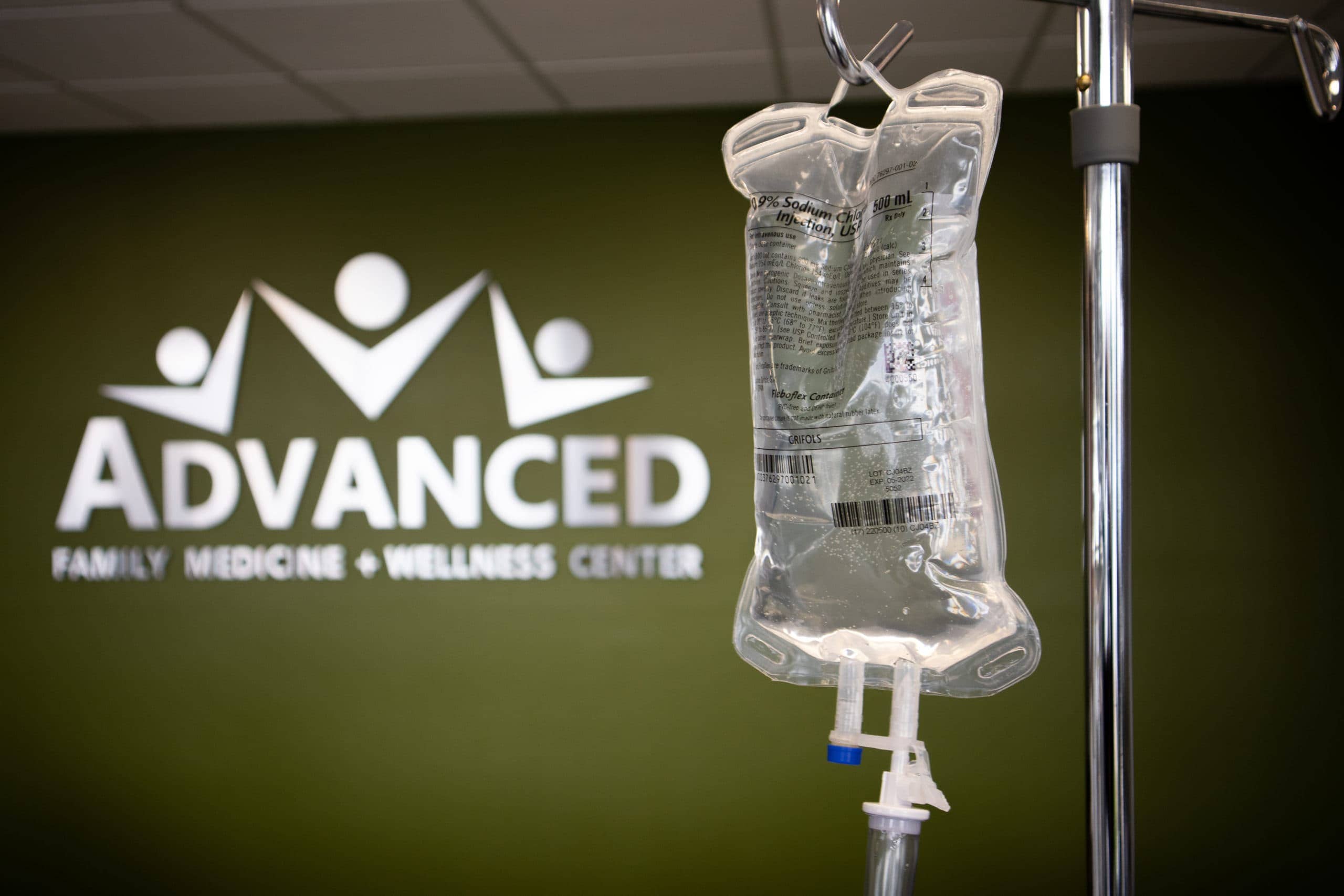 Reviews Denise Ramey
23:53 03 Sep 21
A New Generation Of Health Care

Misty Brewer
02:38 04 Aug 21
When my now previous provider quit , to say I was nervous about finding a new one is a under statement. I spent weeks reading reviews, asking around etc. I Almost waited to long, before my meds were out of refills. I decided to give advance family medicine a try.The absolute best decision! I have sense switch my daughters provider as well. We see Dr.Garcia, but have seen Dr. Barnes as well both providers are amazing! They makes sure you understand everything, makes sure your needs are taken care of.They dont treat you like cattle just hearding you in and out of their office. They are busy folks, but they care about their patience.I've had issues come up, call them up and been able to come in within hours! That's awesome!!!!The office staff are always so nice and polite in person and over the phone.

Lori Alburty
13:21 30 May 21
I've been there twice on a weekend. Great staff, nurse practitioner spends a lot of time with you, explains your diagnosis thoroughly. I only have to pay for $25, instead of the $75 at urgent care. Will definitely use again.

Christina Williamson
15:32 30 Mar 21
I used Advanced Family Medicine and they are very fast and friendly! Was very happy with how I was treated. Bill Friesenborg
21:42 17 Dec 20
Dr. Barnes and staff are very friendly. Was able to call on Tuesday consult on Wednesday, procedure on Thursday. Quick to prequalify with my insurance. Overall excellent experience. I had very short wait in waiting area, in exam room on time of my appointment both visits.

Nadine Business
16:45 25 Oct 20
I love my doctor and his entire staff!

SASSY S
07:18 31 Aug 20
Dr Barnes has been a great doctor. In 2007 When I was having pain constantly and numerous trips to the E.R tons of misdiagnosis and seeing multiple doctors who told me I would just have to deal with the pain. I made an appointment with his office. Dr. Barnes listened to my symptoms and I figured he would say since nobody could find anything wrong there would be nothing he could do. BUT he looked at me and said I'm not stopping until we find out what's wrong. After several tests he said I can't find anything. At this point I was thinking I feel defeated. He then said I'm sending you to a surgeon for exploratory surgery. When I had that done the surgeon found my appendix was bad and that i had chronic appendicitis. If it wasnt for Dr. BARNES determination to find out what was wrong who knows what wouldve happened. He's always been kind and determined. His nurses and staff have always been polite. The one thing that I dont care for is having to be seen for a refill on a script every month but I respect why they do that. The doctors, nurses, and staff are so sweet and that's more important to me so..... I can deal with being seen monthly for a refill 😊 keep up the excellant work! Also, these drs, nurses, and staff work longer hours each day to provide great healthcare to those who cant make it to urgent care or their primary care dr during typical office hours.S.Y. Linda Lou
21:28 05 May 20
I received an appointment within 2 hours after I called. everything went extremely well. Thank you very much advanced Family Medicine for a great over the phone visit. Shaimin Cash
22:53 01 Apr 20
Great experience via telemedicine! Everything was super quick and easy. Josh Shackles
06:11 26 Mar 20
I recommend Advanced Family Medicine & Wellness Center! 5 Stars!

BrenDan Vlogs
16:23 08 Mar 20

Jayden Conrow Bogard
03:11 29 Feb 20 Crystal Watkins
22:18 28 Feb 20
Great place love the drs! my husband just had his vasectomy. It was smooth going and the shirt he got is wonderful 😅😂

jo mason
22:09 29 Dec 19
All of the people who work at this clinic are well educated,well trained care givers. Dr Barnes is an excellent physician who truly cares about helping me and my family when we're sick. Keith Stroup
05:36 18 Dec 19
Dr Barnes and staff are awesome Shane Werberger
14:59 05 Nov 19
New location same exceptional service. It's the little things that Dr Brian Barnes and his team does that make me a customer for life. Thank you!! Harriett Weaver Miller
03:34 10 Oct 19
Great doctor and great staff Riley Tatum
22:57 10 Sep 19
Excellent staff to deal with. they were friendly and prompt. I was able to set up my vasectomy appointment in a much shorter time frame than the other places I had contacted in the area. They charged a fraction of the price, and it was painless. I would recommend them to anyone looking for a vasectomy, or just a doctor visit in general!

Per Lo
21:33 02 Sep 19
Appreciate them being open on Labor Day and getting me in and out quickly. Azura L. Herne
01:35 05 Aug 19
Dr Barnes and staff are amazing!

Jessica Evans
15:48 23 Jul 19
Awesome Staff, wonderful hours & Great Care! John Smith
20:35 17 Jul 19
Love this place! great people and they care enough to be open when I need them! They care about their patients. I've seen them go to bat for them over and over again. very knowledgeable too. Would never go anywhere else!

Beth Mc Kinnon
16:06 28 May 19
We received good care, everyone was friendly and professional. I was grateful they we're open on memorial day. They were much cheaper than the ER or other urgent care in the area Charlie Smith
00:36 15 Mar 19
I go there every month for blood work and when I need a doctor they always try to get me in quick as they can Melanie Fields-Chambers
03:21 07 Feb 19
I've never been to this place. But the Facebook marketing alone makes me want to go. Hilarious and gets the point across. I love it! Dave Shryock
16:03 04 Feb 19
simply the best...you need a doctor this is the place to go! Tracy Fearing
03:20 22 Jan 19
They treat me great from the second I walk in the door. They actually take time with you and listen to you. It's a nice change from the other docs I have seen in this area who treat you like a burden if you have a question about your own care. April L. Chew
07:50 01 Jan 19
This place is a good place to go when you need to be seen. Their facilities are clean, nicely kept, and that is one thing I really appreciate as a patient. Misty Covvey
01:43 28 Dec 18
I have never had a Dr and his staff advocate for my health the way they did. Working till 9pm at night to ensure I was given the proper care at the hospital and get a prescription called in. The follow up was just as caring. Great place and I can't think them enough. Irene Morris
19:21 17 Dec 18
I love this group! very professional and they are very patient oriented. They stay open so I don't have to spend more at that awful urgent care. LOVE LOVE LOVE Jon Lancaster
14:06 29 Nov 18
I've known these people for years. They are good Christian people that spend their lives helping others. They are the most selfless and kind people you will ever meet and they know what they're doing- they are amazing healthcare providers. This is where you go when nobody else knows what to do for you. I see negative reviews on here and it breaks my heart to see how ignorant some people can be. You don't pay your Bill's or you demand your narcotics or verbally abuse the staff and then when you're told no you take your entitled butt on to social media and try to destroy a small business all because you didn't get what you wanted. it's disgusting.

Hailey Oliver
18:30 20 Nov 18 Jill Damron
14:32 18 Sep 18
Love these people! Got my yearly wellness check . The staff me feel very welcome and comfortable. Heather StevenPugh
13:19 10 Sep 18
I've been going here for years now. Not only do they generally know me by name when I walk in but they also are always so open and excited to see us. It's well organized and clean. Anytime I call they do their best to fit me in. I get weekly injections and they are always wonderful with giving me tips on when would be the best times To show up despite having an appointment already. They do this because they know it is a weekly shot and I have a demanding schedule to keep. I'm thankful for them looking out for me beyond just the scheduled appointment! I am a fan of the whole team! Irene Morris
02:06 06 Jul 18
Dr Barnes and his two handsome and brilliant nurse practitioners are so sweet and they are all very knowledgeable. The office is organized and clean! I love the staff, they are so sweet and helpful. They are open long hours to help people who need to be seen late. Thank you for making joplin a better place. This is how a doctors office should be! Ben Isenmann
05:04 15 Dec 17 Kimberly Gipson
14:29 29 Nov 17

Anthony Gilmore
13:56 09 Oct 17
Dr Barnes has been my dr for the last 18 years I have nothing but good things to say about him. Jessica Evans
01:41 06 Sep 17
Great care, great people! Wouldn't change anything. (: Chris Evans
16:04 05 Sep 17
They get me right in, and treat me Well! They go above and beyond to help with anything! Tristan Wilkins
16:20 19 Aug 17
Dr. Barnes and his staff are great. Thx for all u do!! Been a blessing in my life. Sherry Denise Chaquette
22:15 15 Aug 17 Brandon McClintock
22:55 22 Jun 17

Jessica shockley
05:00 09 Feb 17

Debbie Pugh
20:08 11 Jan 17
He is the most caring Dr He has been my Dr for eleven years always has time for you never too busy too listen always has you come back for follow ups after labs and goes over numbers with you give him a try won't be sorry. As far as staff they have always been nice to me it depends how you approach people Jon Lancaster
14:20 24 Sep 16
Dr Barnes goes above and beyond to ensure his patients get the best care possible. I love it there! His staff is friendly. I don't have to wait to be seen. They are so caring and wonderful. It's a shame that some people who decide to be irresponsible or demand meds without being seen or are drug seeking and dont get what they demand try to get on social media and play victim. They try to destroy someone's 20 year impeccable career. Trust me, this office and staff and its providers are amazing- but if you're looking for a doormat or an easy high- keep looking. This isn't that place. David Bell
14:33 28 Jul 16 Breanna Landes
17:43 08 Jul 16 Hannah Winningham
22:57 07 Jul 16

Faye Smith
17:06 18 Jun 16
A friendly, knowledgeable, helpful staff with an equally knowledgeable caring physician keep me coming back for health care.